To understand how Google compares to the rest of the world's top search engines, we will first introduce you to the top 15 search engines in the world with brief descriptions and the number of estimated monthly visitors to each as of February 2014. This data has been gathered by a number of sources including Alexa, Compete, Quantcast, Wikipedia and by each individual search engine.

Google is a multinational corporation that owns and operates the world's most popular search engine along with many other internet related services and products. Google has been estimated to run more than one million servers in data centers around the world and to process over one billion search requests and about 24 petabytes of user-generated data each day. Google is the most visited website in the world with over 1,100,000,000 estimated unique monthly visitors.

Bing, previously called "Windows Live Search" and "MSN Search", Bing was released by Microsoft in 2009 and is currently the second most popular search engine. Bing has been able to capture a growing percentage of the search market by delivering high quality search results and engaging in strategic partnerships that have allowed them to gain significant exposure in consumer markets. Since July 2009 Bing has also powered all Yahoo! search. 285,000,000 estimated unique monthly visitors.

Yahoo search is owned by Yahoo! Inc. Yahoo was one of the most popular directories on the web before the rise of the modern search engine. Originally, Yahoo would send queries to a searchable index of pages and present results to the user under the Yahoo brand. However, in 2001 Yahoo was powered by Inktomi and later was powered by Google until 2003 when Yahoo Search became it's own web crawler-based search engine. In July 2009, Yahoo signed a deal with Microsoft to allow Bing to power all Yahoo search results. 250,000,000 estimated unique monthly visitors.

Ask, originally known as "Ask Jeeves", Ask is a question answering focused web search engine founded in 1996. In 2010 the company outsourced its web search technology and returned to its roots as a question and answer site. 145,000,000 estimated unique monthly visitors.

AOL, originally known as America Online, AOL is best known for its online software suite that allowed customers to access the world's largest "walled garden" online community. At it's peak, AOL's membership was over 30 million members. Since 2009 AOL has substantially changed its business model, reinventing itself as a brand company, creating and acquiring a range of content properties including TechCrunch, The Huffington Post, Moviefone, Engadget, Stylelist, MapQuest, Cambio, Advertising.com, 5min Media, Be On, Pictela, StudioNow, About.me and Lifestore.com. AOL's main website and search engine, AOL.com generates an estimated 75,000,000 unique monthly visitors.
6. MyWebSearch.com
MyWebSearch.com is owed by Mindspark Interactive Network (along with numerous other popular web properties) and it's search engine is powered by Google. 70,000,000 estimated unique monthly visitors.
7. WebCrawler.com
WebCrawler is owned by InfoSpace. WebCrawler.com is a metasearch engine that blends the top search results from Google Search and Yahoo! Search. WebCrawler was the first search engine to offer full text search. It was bought by AOL in 1995 and sold to Excite in 1997. WebCrawler was acquired by InfoSpace in 2001. Infospace also owns and operates the metasearch engines Dogpile and MetaCrawler. 65,000,000 estimated unique monthly visitors.
8. Wow.com
Wow.com was first introduced in 1996 and has encompassed many different online services and business models and experienced numerous difficulties over the years. Since February 2013 the domain has served as a barebones alternate interface to AOL's search engine and is powered by Google search. 30,000,000 estimated unique monthly visitors.
9. Infospace.com
InfoSpace.com is the search unit of Blucora. Previous to June 2012 the company was InfoSpace, Inc. however after the company's acquision of TaxACT, the company rebranded. InfoSpace.com provides a meta search engine as well as private label internet search services and monetization solutions to a network of over 100 partners, including: Dogpile, WebCrawler and MetaCrawler. 20,000,000 estimated unique monthly visitors.
10. Blekko.com
Launched in 2010, blekko provides a search engines with the stated goal of providing better search results that Google with results gathered from over 3 billion trusted web pages and excluding sites with specific types of low quality strategies such as content farms. 10,000,000 estimated unique monthly visitors.
11. Dogpile.com
Dogpile is a meta search engine that fetches results from other popular search engines such as Google, Yahoo!, Yandex and others including popular audio and video content providers. Dogpile is owned by Blucora, Inc (the owner of InfoSpace). 8,000,000 estimated unique monthly visitors.
12. Alhea.com
Alhea.com is a meta search engine that combines results from numerous other search engines such as Google, Yahoo and more. 7,000,000 estimated unique monthly visitors.
13. DuckDuckGo.com
DuckDuckGo is a search engine that emphasizes protecting the privacy of its users and avoiding the "filter bubble" of personalized search results. DuckDuckGo distinguishes itself from other search engines by not profiling its users and deliberately showing everyone the same search results for a given term. There is also a heavy emphasis on the quality of their sources, rather than the quantity of sources, generating search results from crowdsourced sites like Wikipedia and from partnerships with search engines such as Yandex, Yahoo!, Bing and WolframAlpha. 6,000,000 estimated unique monthly visitors.
14. Info.com
Info.com is a metasearch engine which provides results from leading search engines and pay-per-click directories including Google, Yahoo!, Bing, Ask, LookSmart, About and Open Directory. 5,000,000 estimated unique monthly visitors.
15. Archive.org
Archive.org, also known as The Internet Archive is popularly known for it's "Wayback machine" service that let's users view a chached version of almost any website from as far back as 1996. Archive.org has been taking snapshots of the entire World Wide Web and makes those snapshots available to anyone who wants to see them. If you are ever considering purchasing an existing domain name, one of the most important steps in due diligence is to look up the history of the site in Archive.org's Wayback Machine. 2,750,000 estimated unique monthly visitors.
Search Engine Market Share
It should be noted that the traffic numbers for each search engine above represent the estimated unique monthly visitors, not the total visits per month. The next chart demonstrates the market share for each of the top 5 search engines based on total searches per month.
This is a very different statistic than unique monthly visitors because each visitor may come to a site multiple times and conduct multiple searches. While each individual visitor is only counted once as a unique visitor in the data above, each and every search conducted by every visitor is taken into account in the data below.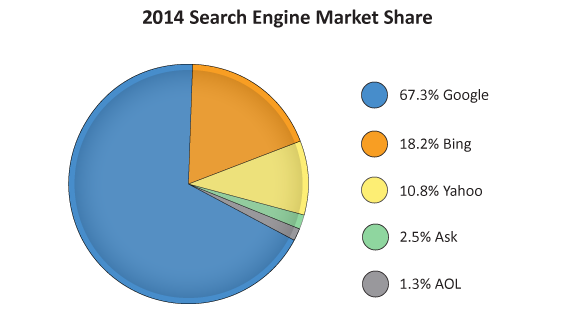 In the next sections of this course we will focus more deeply on Google. We will examine how Google works and what types of information it displays. Remember to download the Search Engine Guide Workbook and use it as you move through the remainder of this course. The goal will be to utilize that document in upcoming courses to create a web strategy with the end goal of ensuring that your site is providing search engines with everything that they need to effectively promote your site within their various types of search results.
Now that you've seen the rest
It's Time For The Best!