This is the single most important tool that exists for keyword research because it is the only one that can tell you the monthly search volume for a given keyword. Now many other keyword tools include this information, but every single one of them gets their data through the Google Keyword Tool API. Let's take a look at both the good and the bad about Google's keyword tool.
What Information Do You Get? What Does It Mean?
Because Google dominates the search engine market with approximately 84% of all keyword searches, this is really the only resource for reliable keyword search volume data. The tool will give you the average monthly search volume over the past year (or during any particular month during the past two years) for any given keyword.
When you enter a keyword or a few related keywords into the Google keyword planner tool, it is pretty good at giving you a list of up to 800 related search terms. However, other keyword research tools can give you much greater variety and significantly more suggestions.
The results from this tool tend to be very tightly thematic. It does not go too far outside the box to suggest terms that represent related niche markets… yet. However, with all of the work that Google is doing with semantic indexing, knowledge graph and AI, it would not be surprising if niche market suggestions are introduced in the future. The good news is that we have other tools and methods for finding this information.
The Google Keyword Tool provides information estimating the level of competitiveness for each keyword, however this data is only relevant to AdWords, not Google's organic search. However, we do have other tools that are great at this that we will be looking at later in this course. It should also be said that the estimated CPC for each keyword can be a good indicator of how well the term converts.
Typically the best time to use the Google keyword planner is as the last step in keyword research. Just to get the estimated monthly search volume and estimated CPC. The fact is, the Google keyword planner is quite limited in the suggestions it will return. Surely it will return enough keyword suggestions to impress, however you will find that many of the most important and relevant keywords will not show up in the suggestions. There are other tools and strategies that will give you a much more thorough list of potentially important terms… and once you find them, the Google keyword planner will help you understand exactly how popular those terms are.
How to use the Google Keyword Planner
To use the Google Keyword Planner, go to: https://adwords.google.com/KeywordPlanner and sign in with your Google account. If you don't have a Google account yet, set one up!
Once you sign in, you will see the following: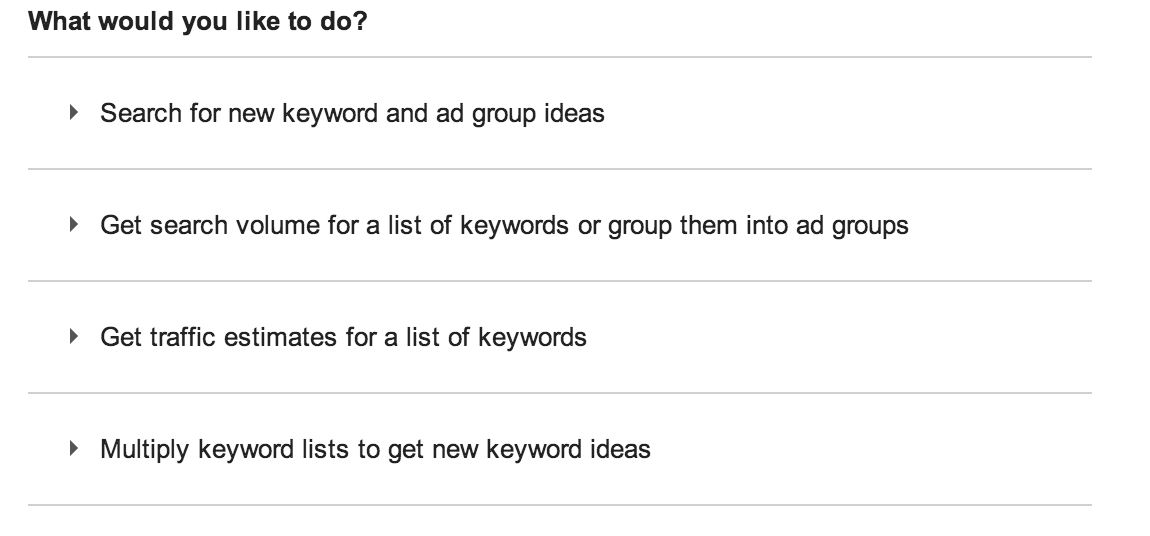 Let's review the types of results each option provides and when to use them.
When you click on this option, the menu will expand to show the following: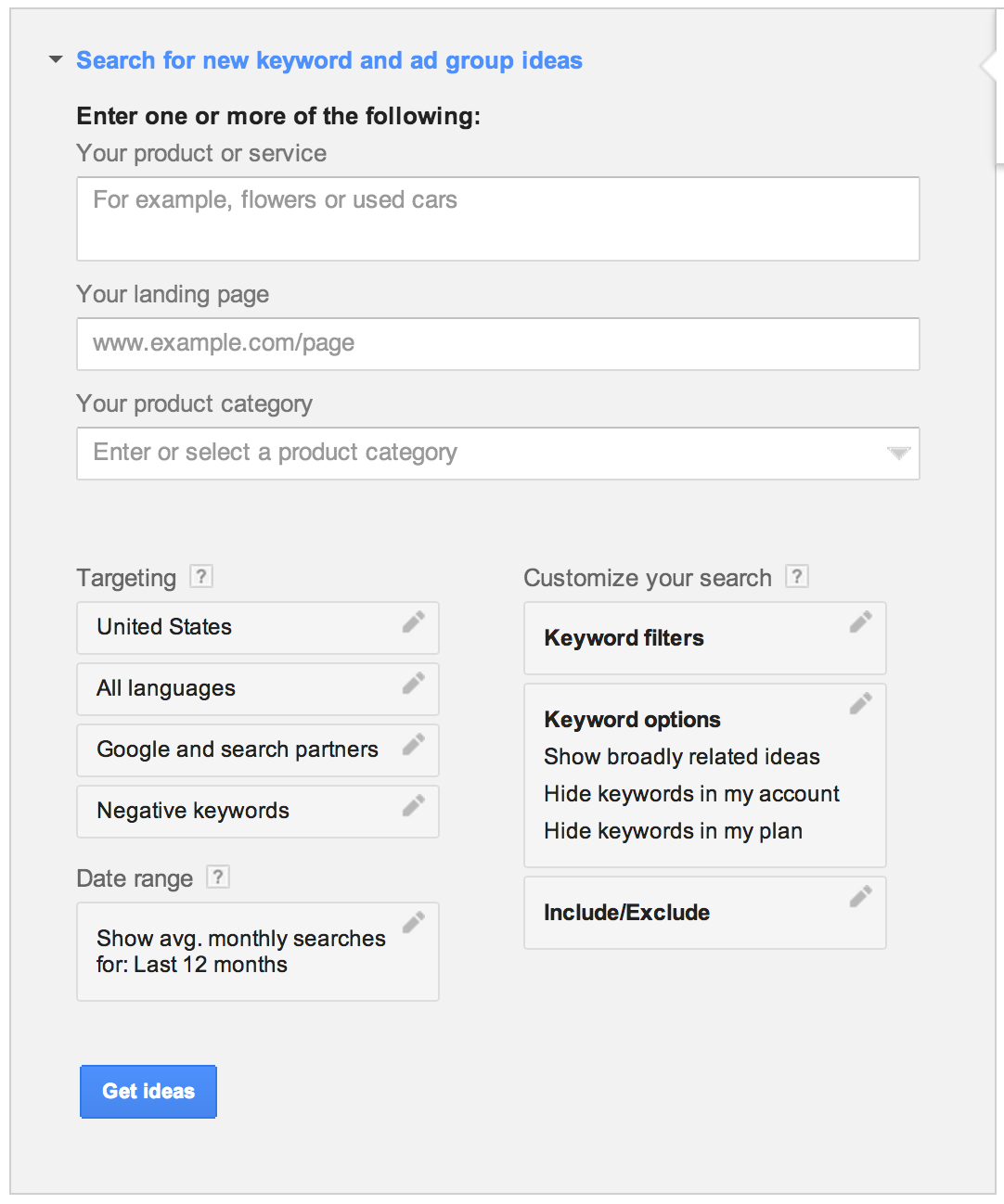 Explaining The Options of the Google Keyword Planner
Your Product or service: Enter a list of keywords, one per line, into the top box (200 terms max)


Your Landing Page: Enter a specific landing page. This is a great way to find a massive list of well categorized keywords. The trick is to download this report as an .csv file, and get rid of all the data except for the Ad Group, Keyword and Avg. Monthly Searches. Open one new .csv sheet for each category of your website. Then go through the keyword list from ad group to ad group. Copy each ad group onto the proper new category page. This way you will end up dividing the one big keyword list into more manageable categories.


Targeting options:
Location: Select a country, state, city or region for specific search volumes. This can be very helpful in getting accurate keyword search volume for local businesses.


Language: Select the appropriate language


Search Network: Choose whether to show search volume from only Google, or Google and search artners. Note: Showing results from Google and search partners will give you better search volumes.


Negative Keywords: Any words you enter here will be removed from the search results. For instance if you are not interested in any search terms that use the word "Free" the enter free into the negative keywords box, it will make your job easier.


Date Range: By default the search volumes that Google will show you for each keyword are average search volume per month over the past year. However, if you want to identify seasonal search terms, it is best for you to narrow your date range to that time of year.


Keyword Filters: If you only want to find keywords that have more than a certain number of searches per month, you can add a filter for that. Typically it is best just to get all of the search results and filter them later.


Keyword Options: For SEO the only option here that matters is switching between "broadly related ideas" or "only show ideas closely related to my search terms". If you are doing category level keyword analysis, then broad is best. But if you are creating a page level keyword assignment, then the second option may save you some time.


Include/Exclude: This allows you to filter the results for terms that either do contain specific words, or to filter out terms that contain specific words. For instance, if you only want to see terms that contain the word "free", then enter free into the include box, but if you are not interested in any search terms that use the word "free" the enter free into the exclude box. This can be very helpful if you have a really good idea of the buyer intent terms you are looking for.


Once you have entered your keywords and configured your options, click "Get Ideas". There are two different types of results from this tool, you can see each one by clicking on it's tab:
The Keyword Groups results take all of the keyword ideas that Google generated based on the keyword term(s) that you entered and automatically groups them based on a common keyword theme. This can help you identify different relevant keyword themes and give you ideas for how to structure a set of pages to create categories, sub-categories and destination pages. Google's keyword tool does a decent job of creating thematic groups, but is not nearly as good as the Keyword Grouper tool we will take a look at later in this course.

The Keyword Ideas results will first show you the keyword search volumes for every term that you actually entered. Then, below that it will show you up to 800 keyword ideas that are related to the term(s) you entered. If you are early in your keyword research process, looking for categories and sub-categories, then you should download the entire list. However, if you are creating a page specific keyword assignment, you may just want to scroll page-by-page through the keyword ideas and select only the terms that are the best fit.

By default the keyword ideas will be sorted by relevance to the keyword term(s) that you input. However, if you would like to sort the keywords by search volume or CPC, those are also interesting ways to view the list of keyword ideas. Sort ideas by clicking the column headers.

If you click the right arrow symbol to the right of keywords from the list of terms that you originally entered into the tool, a green checkmark will appear.

If you click the right arrow symbol to the right of keyword suggestions in the keyword ideas list, those keywords will disappear from the list and just be added to your new Ad group.

To download all of the keywords you have selected and added to your new Ad group, click the download symbol on the right side of the tool (circled in red in the below image).



This option will expand the menu to show the following: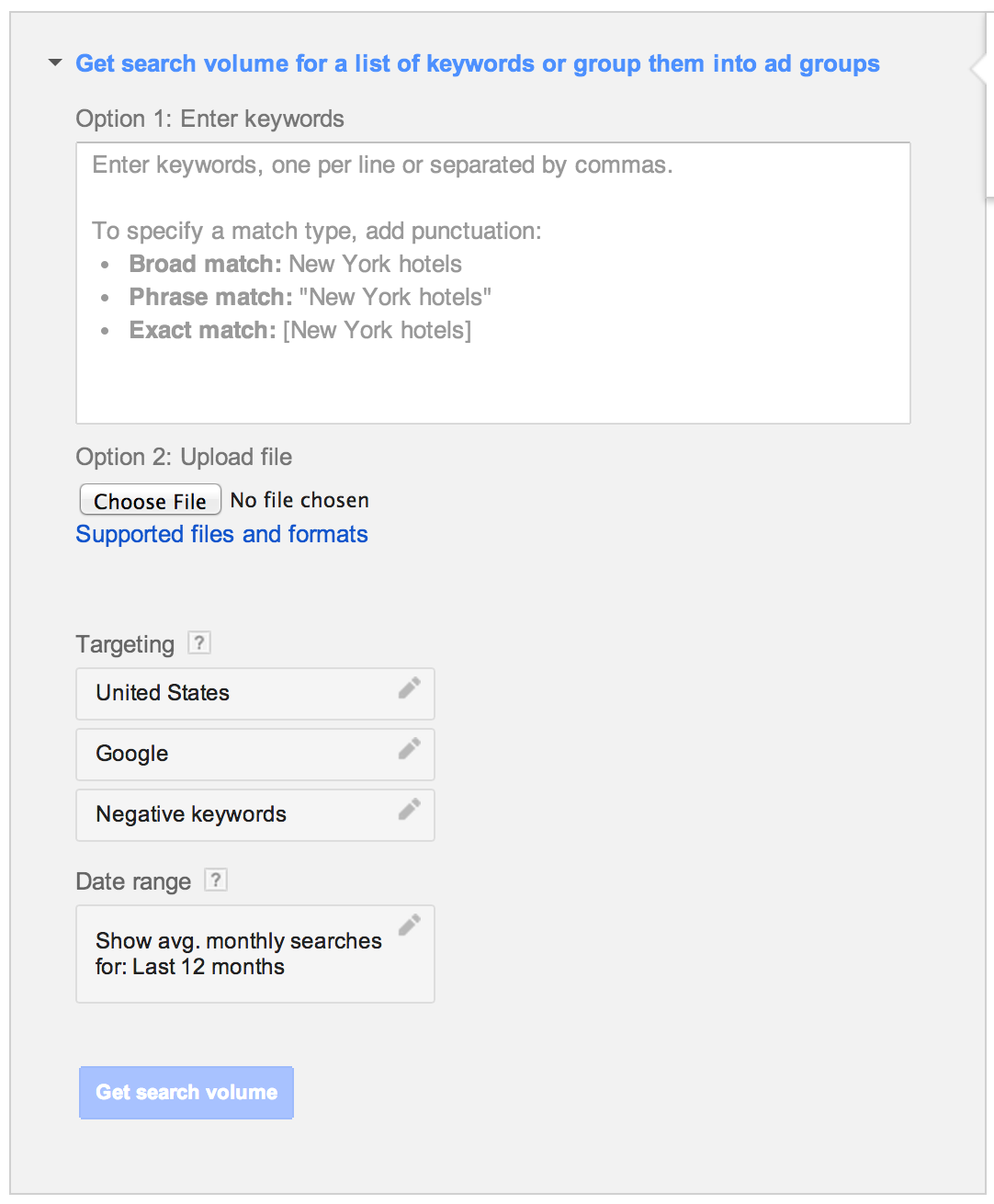 This tool will not give you additional keyword suggestions, however if you already have a long list of keywords and you just want to find out the search volume for those terms, this is the right tool for you. You can enter terms into this tool in two ways:

Copy and paste up to 1,000 terms into the box.
Upload a keyword list containing up to 3,000 terms.
This tool contains some of the same options as the keyword ideas tool

Once you have entered or uploaded your keywords, click "Get search volume"
The results in this report will be formatted exactly like the results of the keyword ideas tool. It is recommended that you download the entire list and take it into an Excel workbook. Later in this lesson we will take a deep dive into what to do with the data once it is in Excel.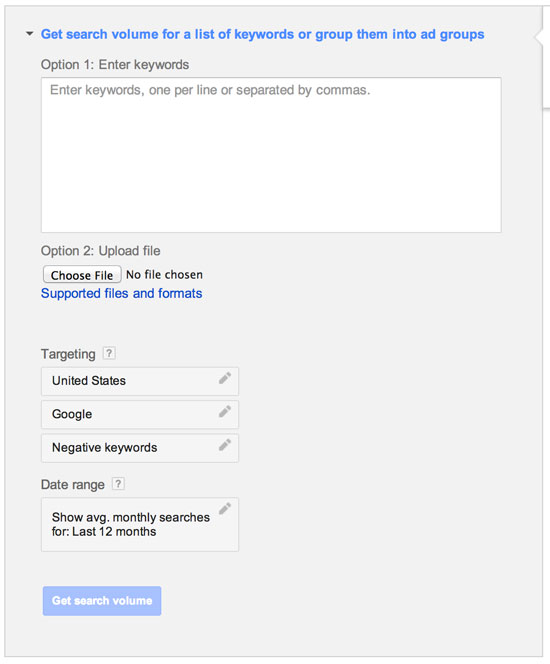 This option is only useful when setting up an AdWords campaign and therefore we will not be using it in this course.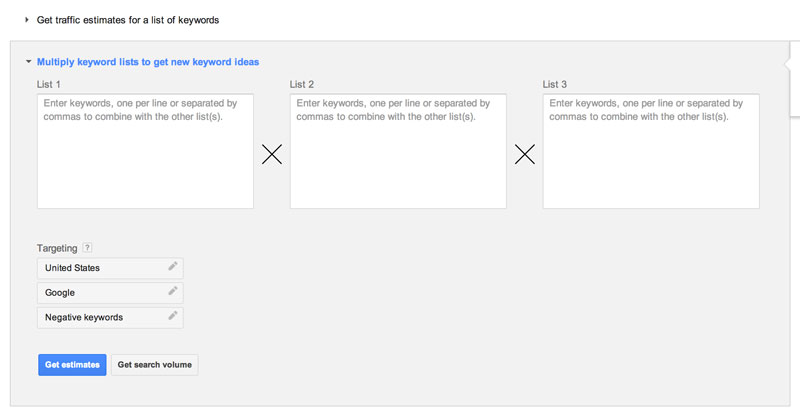 This is one of the most powerful keyword tools there is. Later in this course in a strategy called "Identifying keyword patterns based on user intent and other keyword modifiers, and using them to uncover every relevant keyword combination possible", we will go through how to use this tool to produce awesome results. Basically, this tool allows you to enter up to 3 different keyword lists and it will automatically create every possible combination of those keywords (up to 1,000 words max). If used correctly, this tool will help diamonds in the rough every time. But, before we jump into the deep end, let's make sure that you know how to take the steps to properly prepare for that level of awesomeness!
In the next lesson you will learn how to find every single keyword that your competitors are using in their online marketing strateiges.
Now That You Know The Basics…
Let's Take All Your Competitors Ideas!
Next In the next lesson we are going to start