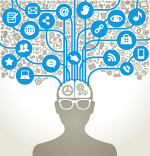 Now that you know about all of the wonderful different types of links, the questions remains… How do you actually get all those different types of links pointing to your website? Where are they going to come from and how do you actually make it happen? In this section we are going to take you step-by-step, through each of the components of a well rounded approach to link building. At a high level, they are:
Create a vast network of profiles on websites that you do not own, but that will allow you to contribute content. We will get deep into this strategy later, but consider this phase 1 in your link building project, and something that you will continually expand over time.


Create great original and engaging content and promote that content through your network of profiles. This is an ongoing, never ending task. You just do this now. We are going to talk about some great examples of "link bait" or content that is particularly good at generating natural and organic links.


Try to replicate the backlink profiles of your top competitors. By running a backlink report on a competitor you can get a great list of websites that already have a track record of linking to content that is relevant to your business. This is a great list to have.


Outreach. Unfortunately, most websites do not just allow you to create a profile and start putting up content that links back to your own website. But the strategies in step 1 and step 3 above will give you a long list of websites that you will want to reach out to and get them to link to you. This requires a lot of skilled relationship building, organization and efficiency to be successful. But, doing a good job with this can make a greater impact on your SEO success that any other task. So, it's important and we will discuss it at length later.


Build out 1, 2, or even 3 tiers of links supporting good pages that are linking to your website. Here is the deal, if you get a link form a page that doesn't have any links pointing to it… then it isn't that valuable. But, a link from a page that is getting links from a large network of other pages, and many of those pages have a good backlink profile of their own… then the page linking to you will have a tremendous amount of link juice to pour into your site.
So, those are the 5 components of your new
Link Building Strategy!
Next In the following lessons, we will take you through exactly what you need to do, step-by-step to start building links. Like any good building project, we will start by creating a solid foundation. This means you are going to