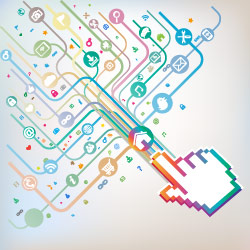 A back link profile is all of the links from around the Internet that are pointing to a particular webpage, or to an entire website. Google sees the back link profile as a great indicator of relevance, popularity and authority. Think about a link to your website as a vote of confidence or a referral.
For example, let's say that two different websites in the same industry, offer very similar information and are essentially equal in terms of on-site content, optimization and performance. However, website A has very few links pointing to it from other websites, and website B is getting lots of links pointing to it from other websites. Google will take those link signals to indicate that people seem to think that website B is a good resource that they are willing to recommend to others. While no one really cares about website A. Because of this, Google will give website B, the one with a good back link profile, higher search result rankings than website A.
But, a back link profile isn't just about the quantity of links. It is estimated that there are nearly 50 different factors that Google takes into consideration when looking at back links, and most of them are aimed at determining quality and relevance. It is also estimated that approximately 40% of Google's organic search ranking algorithm is focused on links.
You see, links give Google great signals as to what your page is about. When someone links to your page, the words that they use for the anchor text of that link, and the words that they are using surrounding that link are strong indicators of relevance. Ultimately Google wants their search results to be relevant to the term being searched.
The total number of links to your site and how fast those links are growing (link velocity) are also strong indicators of how popular your website is and a good reason it should show up high in Google's rankings.
And, if your page is getting links from other important and credible webpages that have proven themselves over time to be authoritative and relevant to your niche, then that indicates your page should be considered an authoritative resource. Google gives strong preference to authoritative resources.
So, the back link profile for a website gives strong clues of: Relevance, Popularity and Authority.
Combined, these three traits point to an important website… one that probably deserves to rank highly in Google search results.
So, now that you know what a back link profile is…
Let's Teach You About The Anatomy Of A Link!
Next The next lesson is another small step toward link mastery...
But, before you an be a true link master, you have to understand