The moment that a business goes online it begins a journey along a path of digital marketing maturity. That path starts with a basic web presence and over time grows in sophistication and complexity. The goal is to maximize that business's opportunity to make money.
The business model, user experience and customer journey may be quite different from one business to the next. However, the 7 stages of digital marketing maturity that most business will go through as they mature are well established.
By understanding these 7 stages, a business owner and its marketing team can easily identify:
Where a business is currently at
What the current objectives should be
What strategies should be in place
What key performance indicators should be used to monitor the current level of success
What steps must be taken to take the business to the next level.
What are the 7 stages of digital marketing maturity?
The 7 stages of digital marketing maturity are as follows: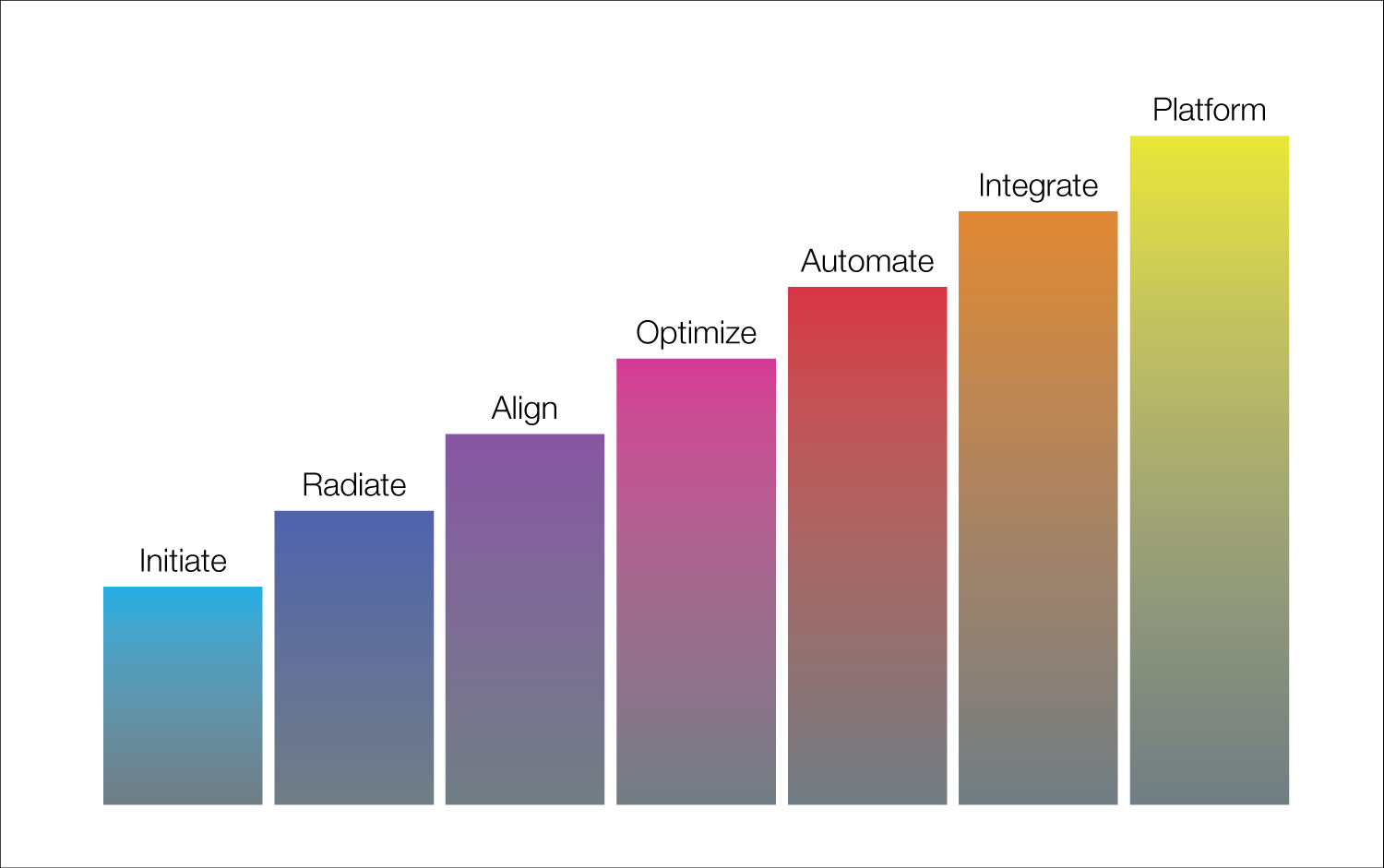 "That's pretty… but what does it mean?" Glad you asked. Let's take a look at the characteristics that define each stage and get a better idea about how an online business matures.
Objective:
Establish a basic informational web presence.
Strategies:
A brochure website built on an easy to manage CMS featuring some static pages that provide an overview of the business, pages that offer information about the products and services the business offers and some contact information such as phone, email, address and a basic web form.
Email.
Web Analytics.
KPIs:
Traffic to the website
Contact form submissions
Email addresses collected
Phone calls (hopefully to a number that is dedicated to the website for tracking purposes)
Sales
Objective:
Prioritize and distribute content across relevant channels.
Strategies:
Blogging. Regular content creation that gives you an opportunity to talk about issues that are relevant to the products, services and information your business offers. This content also becomes the cornerstone of your social, marketing outreach and customer engagement strategies.
Establish social network profiles and begin to build and engage an audience.
RSS. Use the RSS feed from your blog to automatically syndicate your content.
Newsletter. Stay directly connected to your audience with a newsletter that delivers value.
Connect with influencers. Seek out the most well known people in your industry and connect.
Guest posting. Grow your audience by contributing to other websites that are already well established.
Paid Advertising. Test platforms such as Google AdWords, Facebook, Twitter, LinkedIn, in App mobile ads, Display ads and Remarketing.
KPIs:
Traffic to the website is segmented by referral source.
Actions on site are attributed to referral source.
Sales are attributed to referral source.
ROI is determined for various marketing channels.
Objective:
Align digital initiatives with strategic objectives & goals.
Strategies:
Introduce customer relationship management software and begin segmenting your lists to deliver targeted marketing.
Ecommerce. Introduce an online sales process that allows customers to sign-up, buy and pay without requiring the involvement of your or your staff.
Affiliate marketing. Consider an affiliate program that will incentivize business referrals.
Create strategic partnerships with people and companies that can help your business grow.
Mobile presence. Website should be responsive. Consider whether a native mobile app would help you deliver value to your customers.
Multi-channel marketing initiatives. Create campaigns that target the same customer groups in multiple channels including Social Networks, Retargeting Ads and email to reinforce your messaging.
KPIs:
Key performance indicators should be tied to strategic objectives.
Multi-channel attribution modeling to track the customer journey and ROI based on multiple touch points.
Tracking performance based on customer segments including device, geography and time of day.
Objective:
Optimize digital initiatives through measurement, testing and iteration.
Strategies:
Based on web analytics data, analyze the customer journey and modify design elements and messaging to better support a customer journey that will improve conversion.
Introduce variations in page design and messaging and split test different versions to optimize conversion rate.
Consider creating different conversion funnels to support different customer segments, marketing channels and referral sources to fine tune the message to specific audiences and optimize conversion rates.
Introduced rules based personalization wherever appropriate throughout website the ensure the right messaging is being delivered to the right audience at the right time.
Put more resources into the most effective marketing channels and reduce resources toward underperforming channels.
KPIs:
Tied to tracking and monitoring the effectiveness of changes introduced for optimization.
Improvements in time on site.
Decreased bounce rate.
Improvements in page views per visit.
Improvements in conversion rate.
Improvements in ROI.
Objective:
Leverage cross-channel intelligence to track, score and trigger automated marketing sequences such as email campaigns, lead distribution and task creation.
Strategies:
Introduce marketing automation software to achieve granular website visitor identification, tracking and lead scoring.
Use tracking and lead scoring to tag prospects and customers and further segment your marketing list.
Create automated email sequences based on user actions.
Introduce predictive personalization based on user history.
Cross digital channel automation to align user experience across various touch points.
KPIs:
Improvements in percentage of leads that progress through various stages in customer journey.
Leads Generated
Revenue increase
Time saved
Objective:
One shared view of the customer, integration to customer databases, CRM and Analytics that puts all touch points into perspective.
Strategies:
Create a central hub for all data sources (offline & online) enabling key stakeholders to access real time insights.
KPIs:
Tie KPIs with cross channel goals.
Measure revenue wins and losses with fully segmented attribution.
Objective:
Create a platform that customers can use, add-to and integrate with in order to meet their own objectives. Achieve exponential growth by engaging and leveraging your customer base to deliver value that is beyond the capabilities of your staff. Harness data and utilize predictive insights as a source of competitive advantage to anticipate customer needs and deliver increasing value.
Strategies:
Predictive modeling.
Ethnographic research.
Business intelligence.
Business enablement.
KPIs:
Closely tied to current revenue, predicting future revenue and market valuation.
Let the 7 stages of digital marketing maturity guide your business
When building a website, understanding the customer journey will help ensure that the experience you are creating is well aligned with your business goals. Similarly, understanding your current level of digital marketing maturity and the criteria that define the next level will help keep you on a strong path for growth.
In order to move a business from one stage to the next you must analyze the characteristics of the next stage and consider how those characteristics may align with both the customer needs and the business goals. Once these three sets of considerations have been evaluated at a high level you can begin to look at individual projects. Technical considerations, time, resources and costs must be considered and a team with the appropriate skill sets can be assembled to move your business forward.
Now that you understand Digital Marketing Maturity
Let's Start Looking At Your Business!
Next In the next lesson we are going to back all the way up to the beginning and begin a workshop that will ensure your business has a strong foundation for moving forward. Whether your business is already a large and successful corporation or just an idea in your entrepreneurial mind… this workshop and the written plan that it will create is absolutely necessary for aligning your internal and external teams so that everyone is on the same page and moving toward the same goal.